Since 2004, Earth Crystals have been the leading wholesale crystal supplier on the Gold Coast, supplying crystals up and down the eastern seaboard of Australia. Over the years EarthCrystals.com.au has built up an incredible reputation from being able to source some of the most unique and interesting crystals at the most competitive prices. Still going strong today, Earth Crystals has expanded their operation and now has around $1 million worth of stock available in their crystal warehouse in Varsity Lakes on the Gold Coast.
Who is Earth Crystals?
WholesaleCrystalsAustralia.com is one of the online web presences for Earth Crystals that is solely dedicated to spreading the word about our fantastic range of wholesale crystals. Earth Crystals has always been the main wholesale crystal supplier throughout Australia and mainly in Queensland, New South Wales and Melbourne but more recently it was time to provide a more sophisticated online web presence, dedicated to serving those searching online for wholesale crystals.
Just to reiterate, WholesaleCrystalsAustralia.com is not a new business but in fact a dedicated online presence helping those who are searching for wholesale crystals and leads directly back to the huge range of crystals available at Earth Crystals. The WholesaleCrystalsAustralia.com website is also dedicated to providing a wide range of free information related to crystals and how they can help bring more peace and harmony into your life.
The team at Earth Crystals has a real passion and understanding for everything to do with crystals which you'll pick up on when you speak with them over the phone or in person.The staff enjoy creating a harmonious and peaceful energy in the crystal warehouse as they know only too well how the crystals amplify what is going on around them. Their goals is to ensure the hand picked crystals find the right owner in an inspiring way.
How can I get access to the wide range of crystals?
Gaining access to Earth Crystals wholesale trade access is very simple. There are no hoops to jump through and registration is very simple.
All you need to do is fill out the Wholesale Crystals Registration form on this site and you'll be forwarded all the relevant details to give you access to the complete range of crystals on offer. You'll literally have access to 35 categories of crystals with over 800 images and thousands upon thousands of crystals at the best possible prices.
Regular Newsletter updates
In addition to registering for our wholesale crystal price list you will also be placed on our regular newsletter updates that are sent out via email. We love to keep all our clients up to date on our latest shipment of crystals so you can get the first opportunity to have them in your retail shop, online shop or market stall. You'll be truly amazed at the range of crystals we regularly order and the prices are the icing on the cake and you'll be quite amazed at how low our prices are.
You can click here to access the wholesale crystals registration form or simply click on the image below.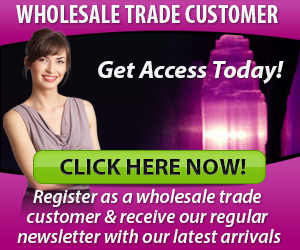 If you have a local retail shop or market stall on the Gold Coast then you would no doubt have heard about the amazing range available at Earth Crystals. Our Crystal warehouse is conveniently located just off the M1 in Scottsdale Drive in Varsity Lakes on the Gold Coast.
Can I visit Earth Crystals to view the range in person?
Absolutely. You are more than welcome to drop in and view our complete range in our crystal warehouse. Whilst we call it our crystal warehouse, it's actually a showroom that has all our massive range of crystals on display. Be sure to check out our photo gallery and view our home page as the slideshow does give a overview of the size of our crystal showroom. Our contact and location details are just below.
Address:
Unit 1, 475 Scottsdale Drive
Varsity Lakes
Queensland 4227
Australia
Telephone: 07 5568 0891
Fax: 07 5568 0892
If you are looking for Australia's best choice for wholesale crystals then Earth Crystals in Varsity Lakes on the Gold Coast is your one stop shop. Drop in for a visit and have a chat to our friendly staff who can assist you in selecting the perfect range of crystals for your needs.